As a part of Let's Talk About It, HSE share their conversation with Ann Callahan to help INMO members understand a little bit more about how Employee Assistant Programmes work. Ann, a counsellor with the programme since 2006 urges staff struggling with the stresses brought on or exacerbated by the COVID-19 pandemic to get in contact with their EAP service.
All of us can experience challenging or stressful periods in our lives, both at work and at home. The many months on the frontline of the COVID-19 pandemic, in particular, have taken its toll on health service staff. Talking to someone who understands can really help. The HSE's EAP is a free, confidential and independent service for all HSE staff. It is there to support employees who are experiencing personal or work related issues that may be affecting their mental health, their job performance or home life.
The HSE EAP service, which keeps the highest standard of confidentiality, is open to all HSE staff and you can self-refer to the programme at any time. For INMO members who are not employed by HSE, Cornmarket have created a contact list here.
Ann explained that one-to-one counselling sessions with staff make up the core part of her day. Ann highlighted the value of speaking to a counsellor familiar with the unique pressures of working in the health service.
"Staff seek support for a lot of different reasons. Some come for support with personal problems, such as relationship difficulties, or bereavement, general anxiety. Others come for work-related issues such as bullying, work stress, grievances or feeling overwhelmed with life," said the counsellor.
"I feel that the emotional burden that HSE staff carry with them, because of the nature of their work, often goes unnoticed. A service like EAP is key to shining a light on this and supporting staff to prioritise their wellbeing, while they're taking care of others. I focus a lot on self-care, which, on the surface sounds like a great idea! But the reality is that self-care is hard work. It's difficult to prioritise it and it's difficult to maintain it. Accessing our service gives staff the space to think about the challenges they experience and can provide a framework for making it happen."
"Another part of our work is supporting teams of staff following traumatic events, such as the sudden death of a patient, or an assault at work. This involves Critical Incident Stress Management debrief sessions, which give staff the space to process the event from an emotional perspective and reflect on how it impacted on them. We try to normalise their reactions and support them to look after themselves."
The newly appointed external service provider also offers staff access to an online support platform. The support hub provides 24/7 instant access to a wide range of EAP resources, including information and guidance on wellbeing topics as well as signposting staff to support and intervention through online self-assessment.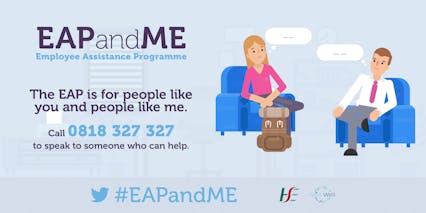 Call 0818 327 327 to access EAP from anywhere in the country. Don't be afraid to pick up the phone – trained EAP counsellor therapists are ready to listen and help.